Your free credit/debit card terminal now includes prepaid services as part of our value added offerings.
Reloadable Debit VISA Cards offer consumers an easy to use option to manage their funds or company reimbursement and payroll. This product is attractive for consumers without a bank account or with low credit scores. It offers recent immigrants, guest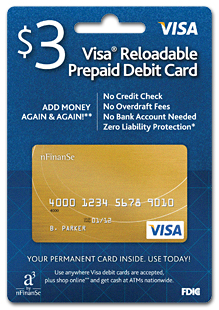 workers, employers, parents, students and the budget conscious with a convenient and risk free way of managing their money. The Reloadable VISA debit cards generate increased sales and repeat foot traffic for retailers.
NOTICE: As of April 2014, we are not accepting new applicants due to reorganization of the service providers.
Reloadable Card Benefits
Low retail price of $3.00
Low monthly & reload fees of $2.95 with terminal
No fees on purchases
Free direct deposit any amount up-to $5000 (*when registered)
No bank account needed
No credit check or application fee
Free 24/7 bilingual Customer Service
Use for online purchases (*when registered)
Get cash at participating ATMs nationwide
Free purchase and balance notifications
sent to cell phone or email address after
each use
Great for Payroll Debit Cards [CNN Money article]
Retailer Benefits
Generate profit on each transaction
Association with national brands
Eliminate inventory and its security risk, on consignment
Eliminate shrinkage and theft
Eliminate distribution costs
No out of inventory problems
Immediate access to new products
Attract new customers, maintain customer loyalty and increase business overall
Which terminals are compatible with prepaid reloadable cards?
Lipman 8500 (IP/D) 8320, Hypercom 4210 4220 (IP/D), Verifone (IP/Dial) VX510 V570 3470/50
How much revenue can I earn and tell me more?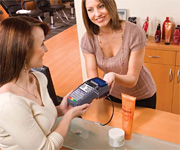 30 to 35% in revenue on each card (ex, VISA Prepaid).
Download and review the training details [here].

How to sell Prepaid Cards?
Customers visit your store and pick up cards of their choice
Accept cash, as accepting credit will only reduce your profit and increase your risk of losing a prepaid cash item.
You activate or top-up the prepaid cards in the increments of $20, $50, $75, $200, ($300, $500) in a single load on a terminal.
Deposit the cash you collected daily in your designated checking account
You will be invoiced on a Monday via email or fax if there are any sales and the cost only will be deducted from your designated checking account on Wednesdays.
If your customers prefer to reload by direct deposit, tell them to call the number on the card to register and have their depositor (employer, parents, or self) complete an authorization ACH form. Once registered, a maximum of $950 per day can be added to your a Card by direct deposit. However, the total balance on a card cannot exceed $5,000.

Direct Deposit Requirements
Sign-up for a merchant account and select one of the compatible terminals.
Each card must be activated with an initial amount of $20, $50, $75 or $200. Once activated with an initial amount on the terminal, wait 24 hours, your customers can then call Prepaid VISA customer service center to register the cards and complete an ACH authorization form with a designated checking account
Your customer can reload by Direct Deposit any amount, a maximum of $950 per day up-to a total balance of $5000 per card.

How do I get started?
Complete a

account with us first, select With Free Terminal.
New merchants gets a free compatible credit card terminal
Complete prepaid forms
Start using your credit card terminal to earn extra cash

What's important to know?
No cost to you

You will need a merchant account to begin Direct Deposit for reloadable cards
Selling prepaid cards will convert your terminal into a revenue source instead a cost center

Let your card terminals pay for your merchant account
Prepaid software co-exists in the same free terminal we provide
Activate your account by transacting once, within 4 weeks of receiving merchandising materials