QuickBooks accounting software enables QuickBooks users to utilize payment processing services. Merchants will want to use their existing copy of QuickBooks to facilitate transaction processing and this Plug-in allows you to process payments directly. Turn your QuickBooks with wifi laptop into a terminal today. You can key in your entries or use a swipe card reader for better rates or schedule recurring billing. MasterCard, Visa, American Express, Discover and other major credit/debit cards are accepted with your merchant account. This solution is perfect for offices, in the car, retails and mail/phone orders.
Quickbook Virtual Terminal Demo


Simply complete the merchant application online and begin accepting payments using QuickBooks.

What are the costs associated with this product?
The QuickBooks Plug-in software license is free. The service is $6 a month plus 10 cents per transaction. Most merchants use this plug-in as a second terminal or a backup terminal.
Which QuickBooks programs is this Plug-in compatible with?
The Plug-in is compatible with all QuickBooks® Pro, Premier and Enterprise Editions.
Which platforms support this Plug-in?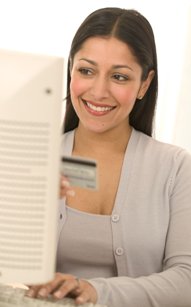 The Plug-in is supported by the following operating systems:
Microsoft Windows Vista, 7, XP
Microsoft Windows 2000

What are the hardware minimum requirements?
Pentium 166 MHz
64 MB RAM
15 MB disk space

Looking for a swipe reader? QuickBooks merchants will work with the Magtek Mini USB Swipe Card Reader! This reader connects to and is powered by the computer's USB port (no external power supply required). This allows you to have a POS at your retail establishment

accepting credit cards, giving you a complete, low cost retail point-of-sale solution!
Which card readers are compatible with QuickBooks?
MagTek® Mini USB MagStripe Swipe Card Reader
Hypercom® S9C MagStripe Swipe Reader and PIN-Debit Pad
Citizen® CMP-10 MagStripe Swipe Reader and integrated Printer
Tip: You can find a list of USB Plug and Play swipe reader at Magtek Amazon
How do merchants operate with QuickBooks


Once you have installed & registered your plug-in, open up QuickBooks to being your easy setup.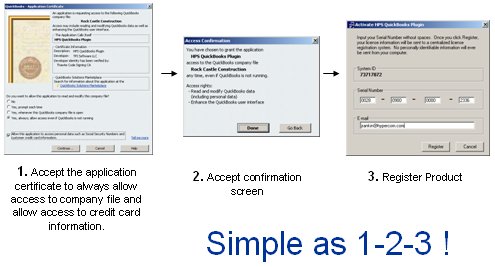 Additions Features
The Client software has been certified as VISA PABP compliance by a Visa PCI/CISP qualified assessor:
QuickBooks Plug-in supports Store and Forward for offline transactions
Schedule Automated Recurring Billing.
Supports the latest and newest customer-facing interactive PIN pads
Works out of the box as a stand-alone product; scale up to serve multiple register as a client-server solution
Supports all Windows printers
Internet Connections: (modem dial-up, DSL, Cable/Modem, etc.) Along with Internet Explorer v.6 or higher installed
Security
The integration client has been certified as VISA PABP compliance by a Visa PCI/CISP qualified assessor:
Certified for TCP/IP and SSL secure connectivity
All credit card data is PCI compliant.
CVV2 and AVS (Address Verification Services)
Password protection
Microsoft Windows 2000