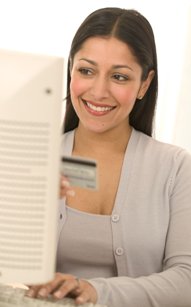 An end-to-end payment processing software solution, with virtually zero investment in hardware, you can easily accept all forms of payment and access a host of reporting and management tools through a familiar interface based on Windows™ PC. All with your current PC or PC-based POS system integration is seamless. Transactions are fast and secure. Compliance becomes a snap with security updates downloading automatically. Take your business to a whole new level.
What are the costs associated with this product?
Each integration has it own vendor cost added to your normal processing rates. Most merchants use this plug-in as a second terminal or a backup terminal.

3 PC solutions provided:

VeriFone PC Charge or Payware ($299 software. It is not a gateway, there are no costly access fees. Supports recurring payments)
Charge Anywhere Plug-in - Designed for Use with QuickBooks ($0 setup / $6 monthly / $0.10 per transaction
Authorize.net VPOS swipe ($0 setup / $6 monthly / $0.10 per. Supports recurring payments)
What are the hardware minimum requirements?
Pentium 166 MHz
64 MB RAM
15 MB disk space

Looking for a swipe reader? Our solution will work with the Magtek Mini USB Swipe Card Reader! This reader connects to and is powered by the computer's USB port (no external power supply required). This allows you to have a POS at your retail establishment

accepting credit cards, giving you a complete, low cost retail point-of-sale solution!

Which card readers are compatible with PC Processing?
MagTek® Mini USB MagStripe Swipe Card Reader
Hypercom® S9C MagStripe Swipe Reader and PIN-Debit Pad
Citizen® CMP-10 MagStripe Swipe Reader and integrated Printer


Where to purchase a Mag Reader:
You can find a list of USB Plug and Play swipe reader here: Magtek Amazon

We also carry it for $79 USB MagStripe Swipe Card Reader

Security
The integration client has been certified as VISA PABP compliance by a Visa PCI/CISP qualified assessor:
Certified for TCP/IP and SSL secure connectivity
All credit card data is PCI compliant.
Password protection


How to get started?
Start by applying for a retail/restaurant/office merchant account. If you already have an account, just reply or use our contact form to create a ticket to add a PC solution. An account setup form will be added to your profile and setup can take 48 hours.